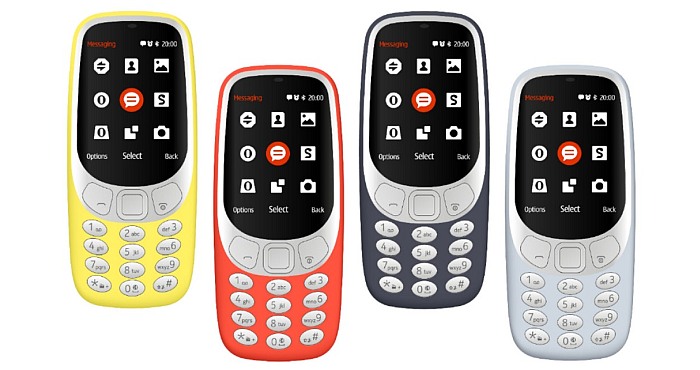 The legend is back, the icon is back, The Godfather of all mobile phones is back, the 3310 is back. The original shape of 3310 was taken, and they add the touch of 2017 on it, to come in a new look that works with our time, but with a classic personality, the 2.4" TFT polarized screen which is edge-curved (30% screen-to-body ratio) that it makes it more easy to read in the sunlight.
The new 3310 comes as its father, with a very strong battery that didn't and won't fail you, with a standby for almost a month! And a whole day talking time battery, you don't need to move with your charger, and if the battery needs to be recharged, a simple micro-USB will solve this situation.
As we used to do in the past, the classic Snake game comes back with the 2017 version, which makes the game easier and funnier than before, and this new colored-screen makes you live the experience again in present, and as NOKIA said, can you remember your highest score?, can you beat it now?.
It comes with 16 megabytes of internal memory, but the good news is that you can put on a MicroSD card up to 32 gigabytes, it also comes with FM radio and MP3 player for your music, and for the headphone there is 3.5mm ordinary jack.
The new thing about 3310 that it comes with a 2 MP camera with LED flashlight, it also can record videos, but there is no secondary camera, it also comes with a Bluetooth connection, but unfortunately there is no WiFi connection.
Nokia 3310 is made especially for your different styles, it comes in four different new colors: Warm Red and Yellow, and the matte gray and Dark Blue. What's best, those new colors are made brilliantly in a way that makes you love your phone, you can have the new NOKIA 3310 for only 50$.
Who's excited!? The Nokia 3310 is now on sale in Russia and India! #Nokiamobile #Nokia3310 #colours #mobile pic.twitter.com/g0dxpIhk5Z

— Nokia Mobile (@nokiamobile) May 18, 2017
NOKIA, founded in 1865, where its headquarters lies in Esppo, Finland, try to make its comeback in the mobile phone market, NOKIA is playing on NOKIA fanboys and their old feelings towards the original 3310, they also retreated from their decision about Android system, but I wish it's not too late, I hope they succeed in their mission and hits back hardly through the market again, and puts its name back again on the top.