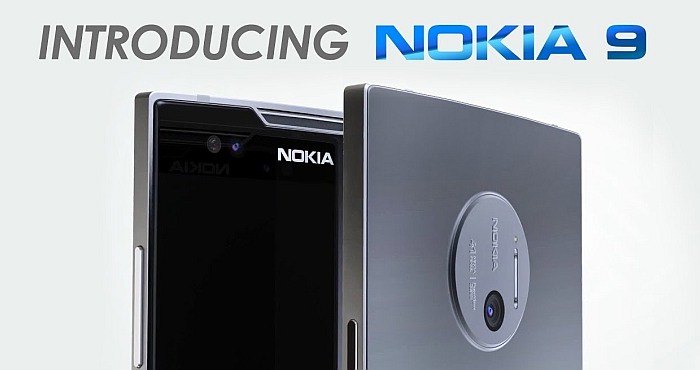 In 2017, users of phones experienced the rebirth of the Nokia 3310. Well, it is not the flagship phone – nor it was in past – the phone received the amazing response, mostly by the users who grew up in the era of this iconic phone of Nokia.
However, Nokia needs to have a flagship which can compete for the above-mentioned device. Nokia has Nokia 6, but its features (like RAM of 6 GB and Snapdragon 430) will probably meet the downfall because of its bored looks in the list of this year's top class phones. This probably doesn't happen with Nokia 9 – if the rumors regarding it are true.
Rumored features
Here are the few rumors as per the internet, particularly the users at NokiaPowerUser, a famous web source for all the stuff related to Nokia. According to their posts, the Nokia 9 will have a 5.5 inch HD LED quad display (2,560 x 1,440), RAM of 6 GB, Snapdragon 835, and storage of 64 GB or 128 GB. The camera of 22 MP with dual lens Carl Zeiss is installed at the rear side while a 12 MP camera is present at the front, and will run by 3800 m AH battery, along with the support of Qualcomm Quick Charge 4. For protection, the phone will have the iris and the fingerprint sensor. The device will run on the Android Nougat 7.1.2 system.
Estimated cost, announcement, and launching date
TechRadar, while speaking to the NokiaPowerUser, mentioned that the Nokia 9 will be announced during July or August, while it will be launch in September at the cost of $699. About the looks of the upcoming phone, one of the channel on YouTube named Concept Creator, shown the rendition about the phone in one of its video saying that channel has got over 1.5 million views by the end of February 2017.
Such massive amount of the views on the fan-made video, in addition to the steady flow of the leaks of the phone, show one thing clearly: there is huge interest in what modern flagship phone which Nokia is going to produce. There are just rumors so far. However, by continuing the fame of the top selling brand in the world among all other mobile manufacturers, it is not too far in the reality for the Nokia to re-make its way to the frontline of the smartphone war zone.