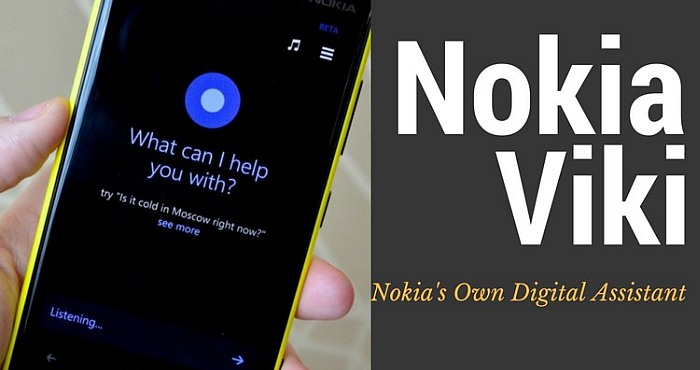 Virtual assistants seem to be all the rage these days. Probably the most well known VA is Siri, Apple's own version. Google, of course, as the google assistant with voice activation, available not only on smart phones, but computers as well. It is rumored that Samsung will soon be introducing Bixby and Nokia seems to be next in line.
Mention should be made of course, that this is not the Nokia brand behind the launching of the new Nokia smartphone. That company is owned by HMB Global. The real Nokia is the company behind the launching of the newest virtual assistant, to be named Viki.
The news of this new artificial intelligence comes through a leaked report from the Netherlands from a website known as GSMinfo.nl, which states that Nokia has a recent trademark filing for the brand new virtual assistant. In the report, Nokia asked that this particular trademark be protected in EU. It is also stated that it will, "combine all data sources into a single chat and voice-based interface."
A spokesperson from Nokia was recently asked about the filing and it was confirmed that while trademarks applications have been filed, they would not be commenting on whether or not they will actually be used for Nokia products and services.
A single chat interface is all that will be needed, we have found out, to gain access to a great deal of information.
Nokia has once again started to make smart phones and that leaves many people wondering what the fate of the virtual assistant will be. Will it be used strictly for Nokia phones, or will it be sold to other companies to be used in other Android devices? The question is a viable one, considering the fact that Huawei has recently chosen Amazon's VA Alexa in its Mate 9 smartphone.
While it is exciting to note that a trademark was, in fact, filed by Nokia for this new VA, it should be taken into consideration that it could be awhile before it actually gets integrated into new smart phones and finds its way into the hands of assistant-hungry consumers. Will it be worth the wait? One can only guess, but Nokia does have an impressive history with mobile phones.
While most people who own a smart phone only tend to make use of the Google Assistant or Siri, due to their overwhelming popularity, it will still be very interesting to see what the outlook will be for virtual assistants in 2017.