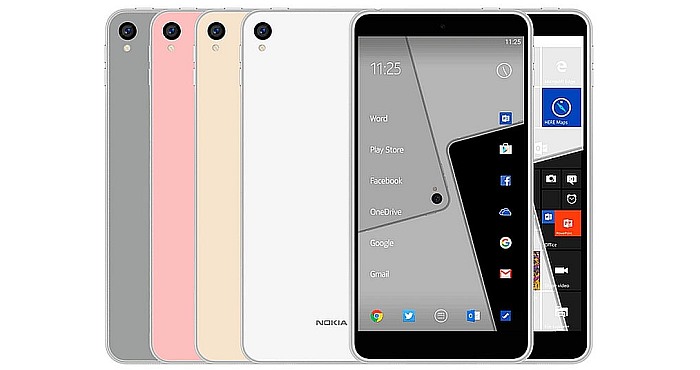 The Nokia C1 smartphone that has been rumored, and present on the leaks, since last year has currently appeared on the Web. Whereas all rumors and leaks till now has claimed that the device will be running on Android but with the Company's Z launcher, the new image leaks is showing that the device is running Windows 10 operating system. This can imply that the device will be offered in two variants for these two operating systems.
The leaked image extract of the supposedly Nokia C1 handset portrays the device in Grey, Pink, Gold, and White color variants alongside with some two more units. Whereas the unit in background (right side) is seemingly running on Windows 10 Mobile, the one in foreground (left side) is running on Nokia Z Launcher for Android. The analyst who leaked those images said that Nokia C1 will arrive in both the two operating systems versions.
Moreover, whereas the leaked image extract in September showed the rear camera of the Nokia C1 smartphone at the center, the latest image extract shows that the camera has been placed at the top-left corner. Due to the fact that Nokia has been so silent on such issues, the latest leaked images should be taken with more attention and consideration.
By going with some part leaks and rumors, Nokia C1 is expected to sport a 5-inch full-HD Display, a 5-MP front camera, and an 8-MP rear camera. The device is also said to be running on Android 6.0 Marshmallow. Other reports and leaks in the past have claimed that the device will feature 2GB of RAM and will also be powered by an Intel chipset.
It is important to note that Nokia isn't able to use its brand on Smartphones until the fourth quarter of 2016. This is due to the fact that service division and acquisition of its devices by Microsoft will take place then. In the beginning of this year, Nokia made the announcements that it plans to get back to the business of making smartphones by licensing designs to the manufacturers of hardware.
The technology company – Nokia, that is Finnish-based, was once the top manufacturer and sellers in the mobile handset market. This company lost its dominance when Android smartphones and Apple devices entered the market. The decision of Nokia to use Windows OS rather than Android made it to lose is customers rapidly.